Mobile components for modular use
Modular components for mobile hospitals and laboratories
All components are adapted to extreme transport, environmental and working conditions
Components that are operated with water can be drained and secured against freezing with simple measures.
STAINLESS STEEL SINK UNIT
2-Level sink unit, made of stainless steel
With 2-stage reverse osmosis system to reduce the salt content of the raw water by 98%
Filters out bacteria, viruses, heavy metal complexes as well as organic molecules with a molecular weight > 300 Dalton
Optionally available without hood-type transport container
To supply devices with water-intensive processes, such as thermo washer disinfectors, endothermo washer disinfectors, sterilisers, sinks and smaller devices with deionised water. The requirements of EN 285, Appendix B, Table 1 for feed water quality are met in conjunction with ion exchanger cartridges connected in series. The limit values of the conductivity both in the resulting permeate and in the deionised water are continuously monitored via the RS 232 interface and can be documented via optionally available software.
Coarse dirt with particles > 100μm is removed by a backwash filter. With a downstream activated carbon filter and the fine filter, organic compounds, free chlorine, insecticides, pesticides, herbicides and particles larger than 5 μm are removed from the feed water. Reverse osmosis easily removes unwanted pollutants and hardness components from tap water by physical means, thus achieving permeate that is extremely soft.
The service life of the ion exchangers is extremely extended by this process. This system is the most advanced, because it is the most effective and environmentally friendly method of water treatment. All dissolved substances are removed in a purely mechanical way. Water is forced through a semi-permeable membrane whose pores are so fine that almost only water molecules pass through. With simple measures, the system can be packed frost-proof in a short time in special, reusable transport boxes.
The sink is large enough for sterile goods containers 1StE (sterilisation unit 300 x 300 x 600 mm).
With various options such as a compressed air gun, hot steam or water shower as well as a basin for ultrasonic cleaning, the range of applications can be considerably expanded.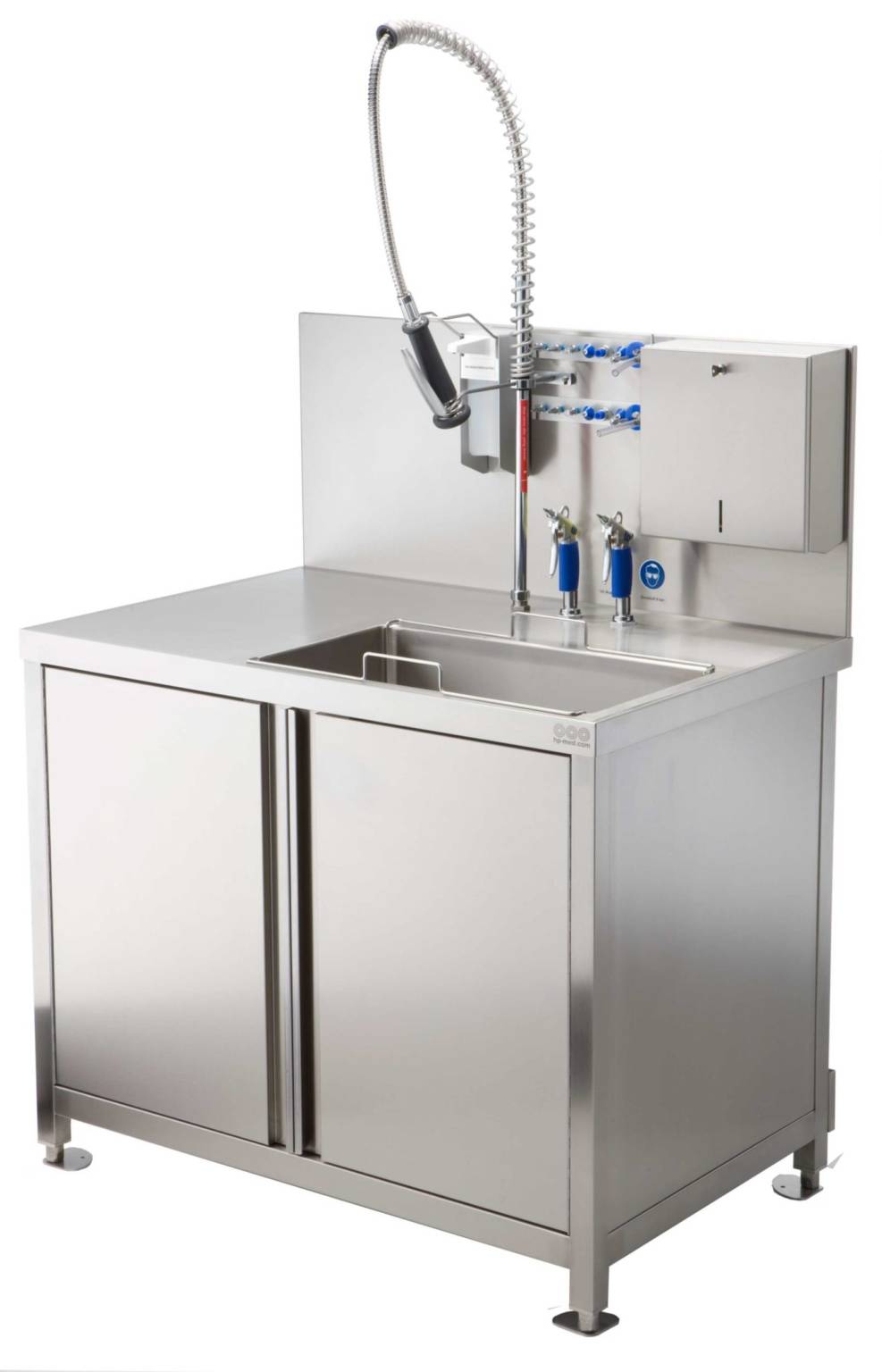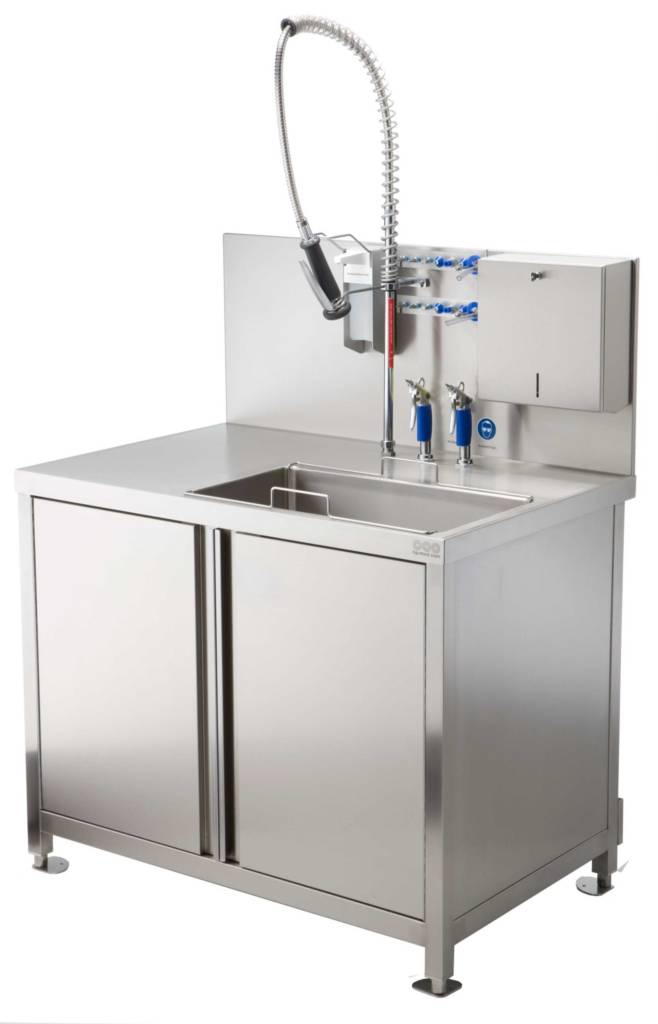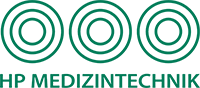 40 years of know-how in sterilisation technology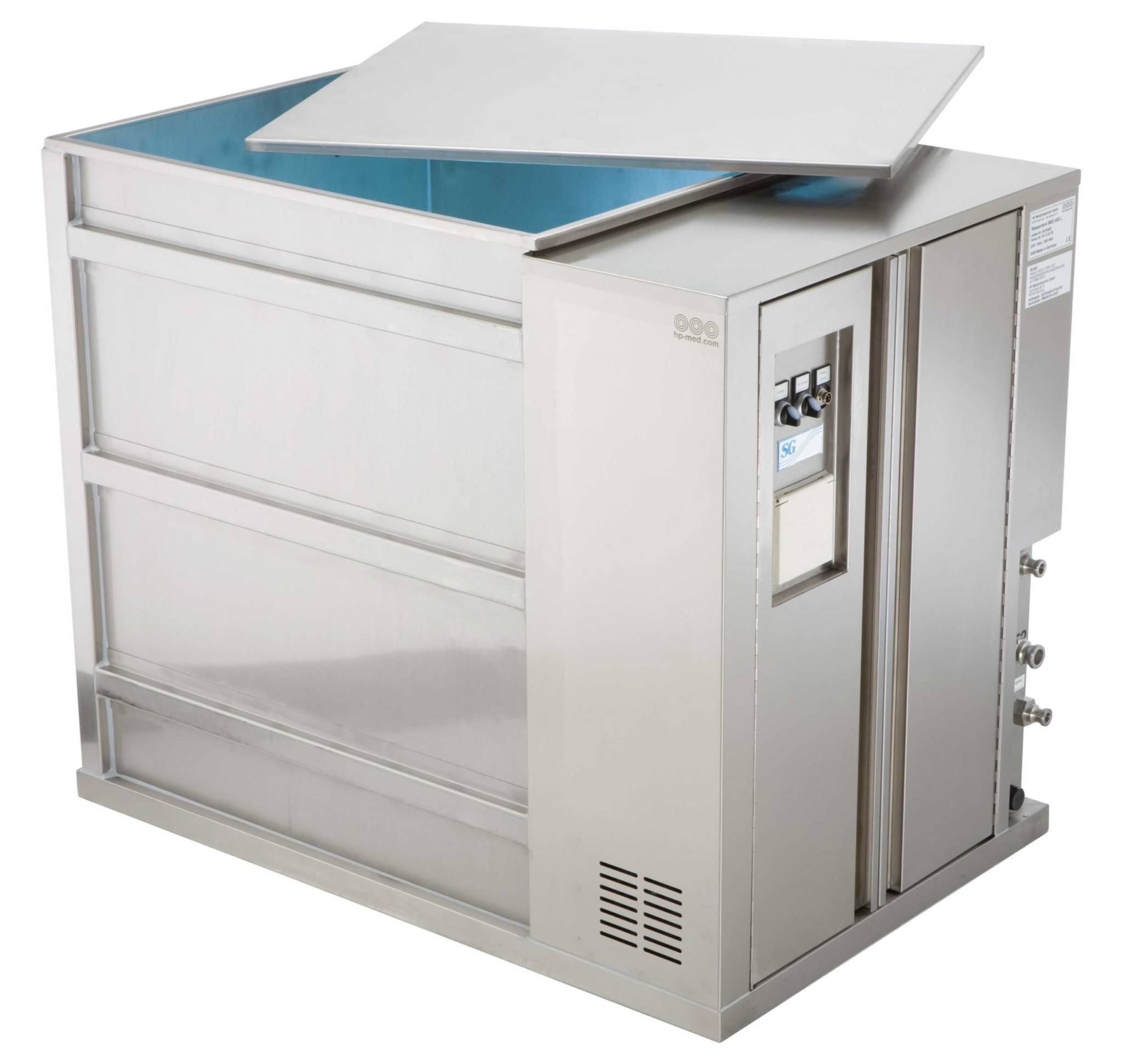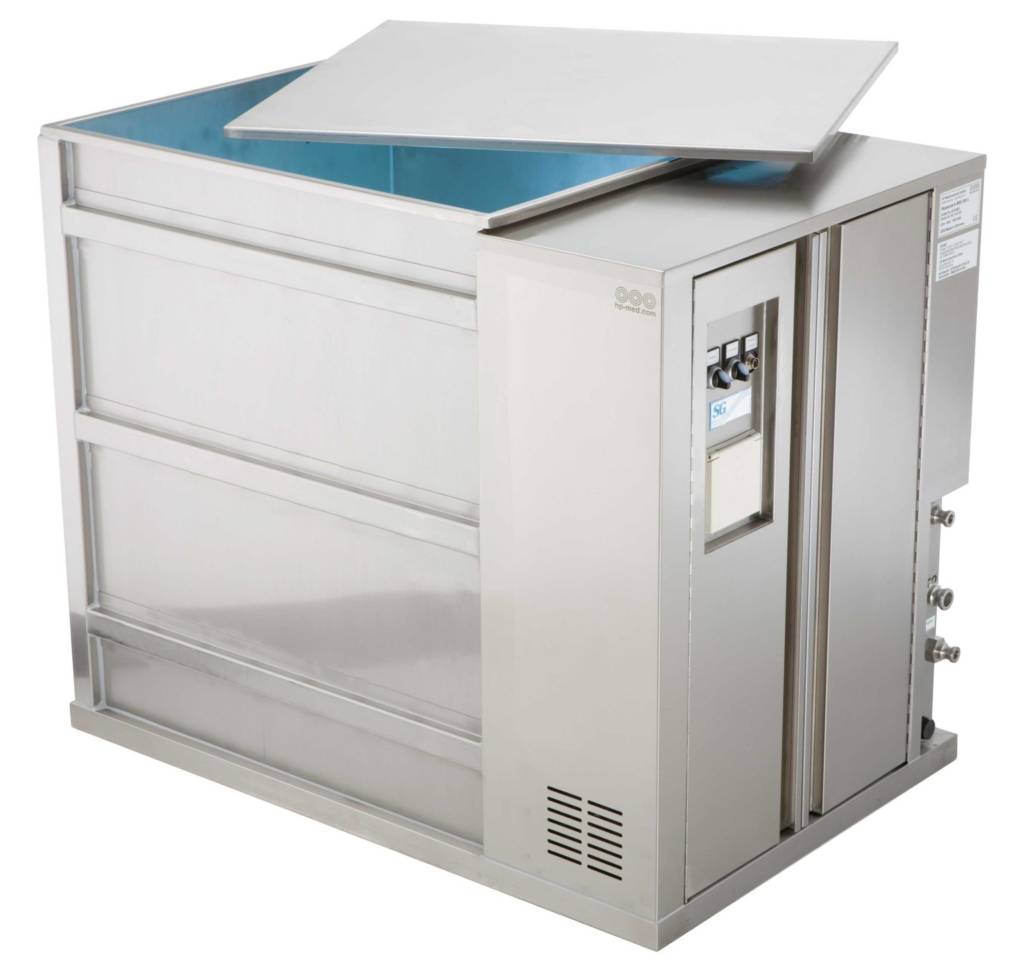 This storage tank made of high-alloy stainless steel to store permeate or deionised water has an integrated booster pump, a control unit with connection option for a data transmission cable to the sink unit and a removable lid. This facilitates cleaning. The built-in UV immersion heater prevents germ growth through biocidal radiation. The fill level is controlled by the reverse osmosis system. At 80% of the fill level, permeate production is restarted; if the level drops below 8%, the booster pump is switched off to protect against dry running. The fill level can also be read visually, so that it is only necessary to open the tank for cleaning purposes. Separate installation of the storage tank and the reverse osmosis system can be realised without any problems. An overflow protection, a drain tap as well as a dry-running protection in the booster pump ensure a high degree of safety for the operator and the system. Transport in a special hood-type transport container is possible.
Compact foldable intermediate bulk container, for the handling of a variety of liquid products.
With bottom discharge and hinged door. Sterile disposable liner bags can easily be inserted through the hinged door.
Safe and hygienic storage or transport of liquids
Easy filling, emptying and transport
Optimal use of space
Stackable and foldable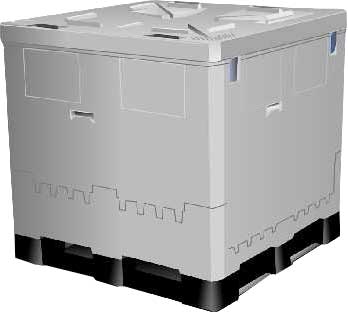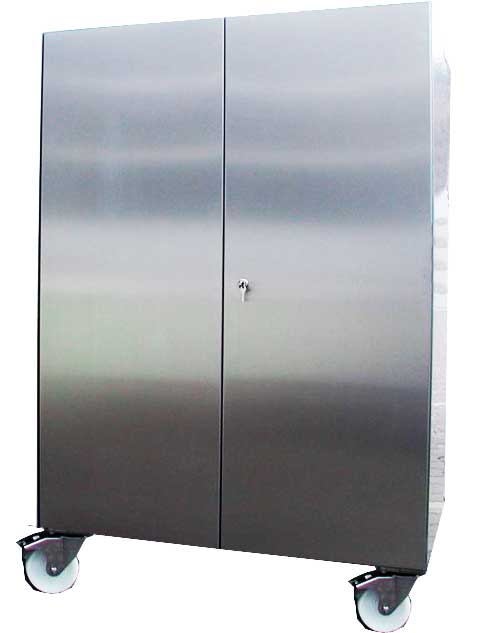 STAINLESS STEEL TALL CABINET
1200 x 800 x 1900 mm
made of stainless steel
with doors protected against dust intrusion
completely with built-in shelf
including 4 sieve supports
1200 x 400 x 1900 mm
made of stainless steel
with doors protected against dust intrusion
completely with built-in shelf
including 4 sieve supports
This stainless steel drawer unit is ideal to store instruments, tools and utensils in an environment with high hygiene requirements and can be placed under a worktable.
For the safe storage of highly sensitive measuring equipment and instruments, individual padding inserts can be provided on request. The drawers can each be closed with individual latches. They have large handles that run the full width of the drawer. The drawers have heavy-duty runners for high loads, up to 50 kg load capacity per drawer. Two castors on the backs of the blocks meet the high hygiene requirements so that they can be easily pulled forward under the worktables.
The two height-adjustable feet at the front ensure a secure stand. As a space-saving and flexible addition, the drawer block is the ideal extension for the stainless steel worktables.
Three sizes are available:
Width x depth x height (mm) : 515 x 633 x 800 MSE
Width x depth x height (mm) : 602 x 433 x 800 LSE 1
Width x depth x height (mm): 602 x 360 x 800 LSE 2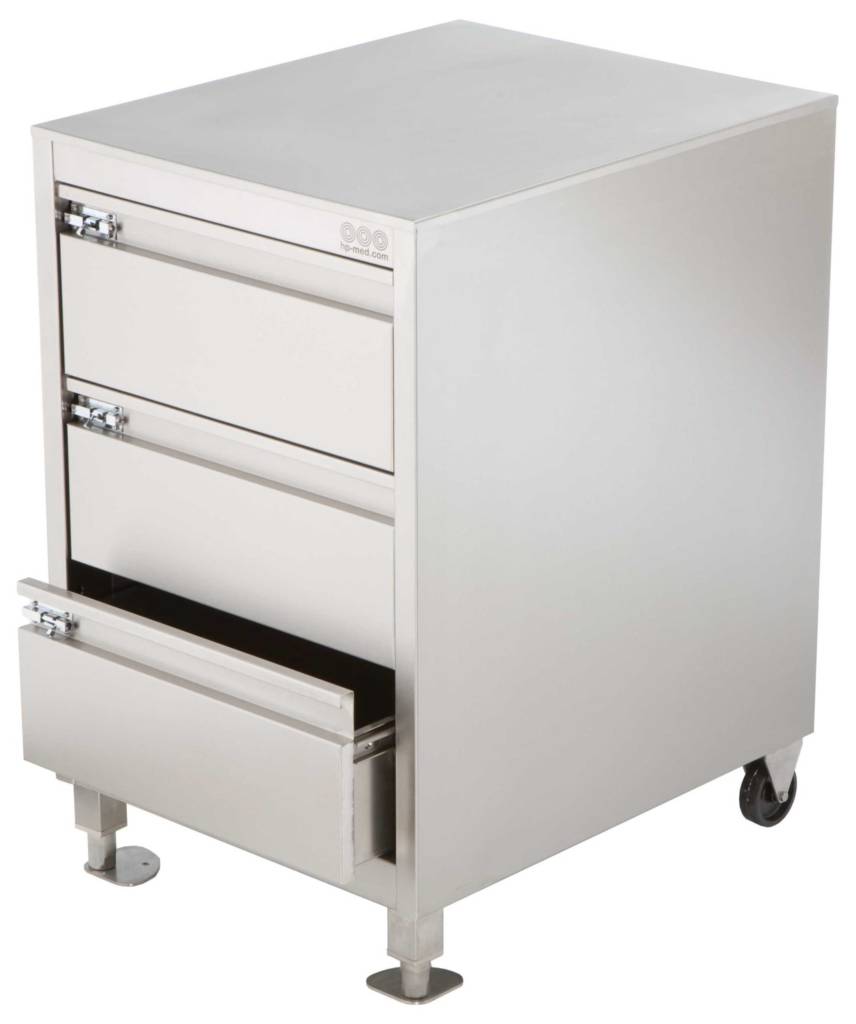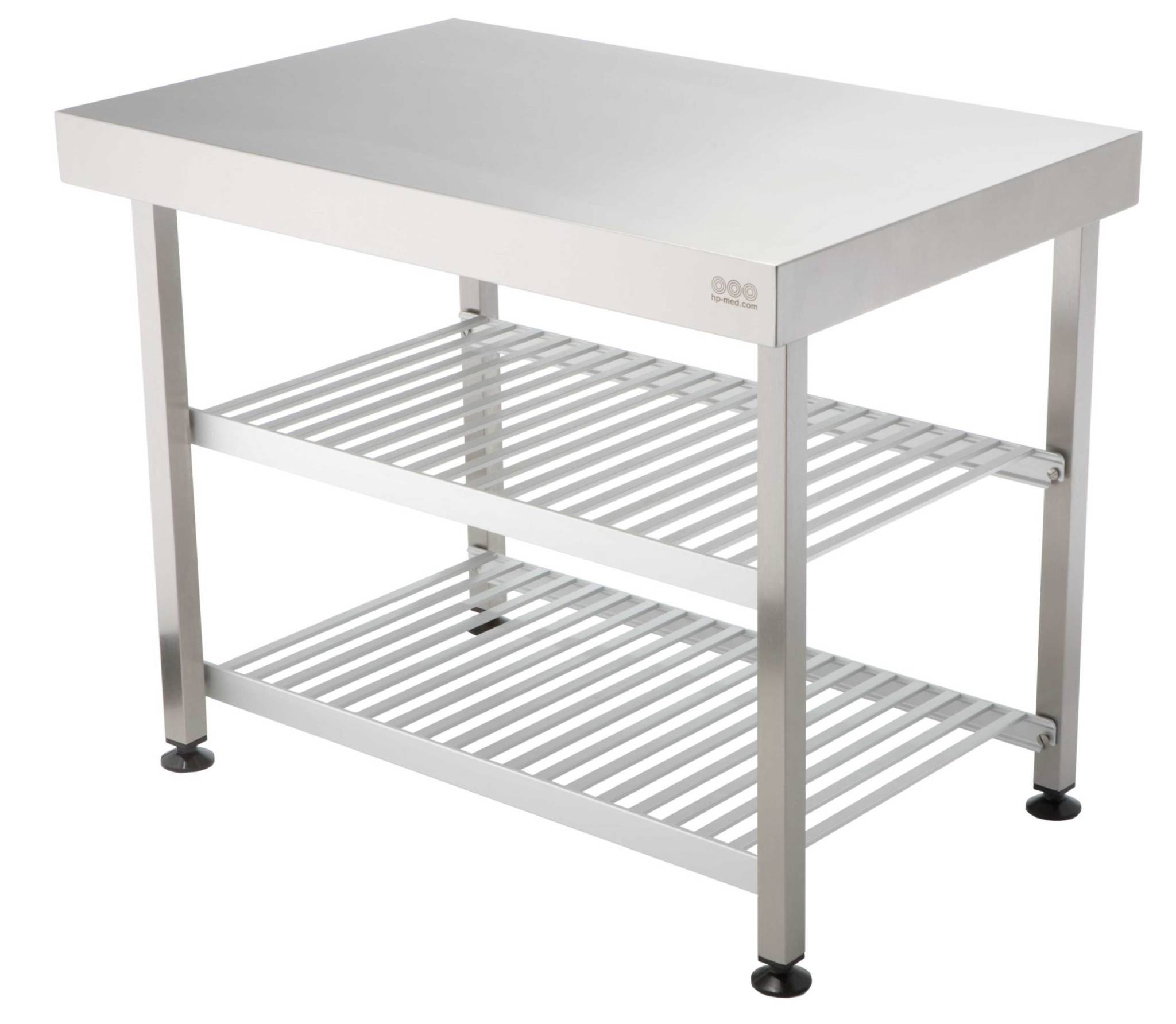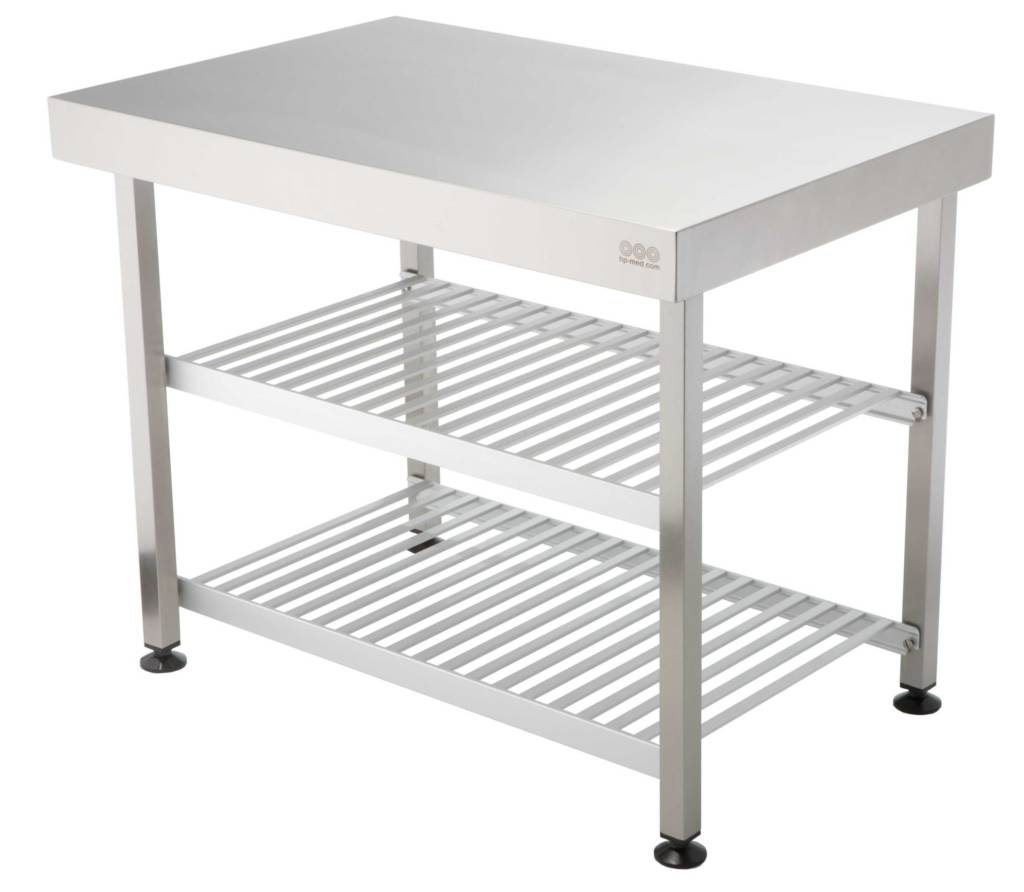 STAINLESS STEEL TABLES AND BENCHES
Flexible and stable – stainless steel tables with noise-insulated work surfaces.
For row arrangements, several tables can be connected, lengthwise or
crosswise, and mutually locked. All legs are height-adjustable.The
non-symmetrical arrangement of the table legs allows the table
to be placed directly against a wall,
even if there are pipes installed.
For a flexible use, the table height is adjustable from 89 to 94 cm.
With the use of up to two aluminium
gratings, the working surface can be considerably extended. All tables can be
dismantled and stacked extremely compactly in transport boxes.
Depending on the height of the transport box, up to seven tables
can be stored in each box.
Maximum load of the table (including 2 grid shelves): 150 kg with evenly distributed load.
Grid shelf: max. 150 kg each with evenly distributed load.
Compact, powerful mobile wastewater lifting unit, integrated in a 2-door stainless steel cabinet. The tank of the lifting unit, including the feed pump, is also made entirely of stainless steel.
The lifting unit can be combined with the sink unit as an additional work surface in a line and blends harmoniously into the work surface with other LSE tables. Adapters can be used to connect the system with fire brigade couplings and hoses to the supply and disposal of operating materials.
In addition, the lifting unit has an overflow protection and a pipe disconnection function. Up to four wastewater pipes can be connected to the tank.
The tank can be easily transported in tested and stackable aluminium hooded-type containers.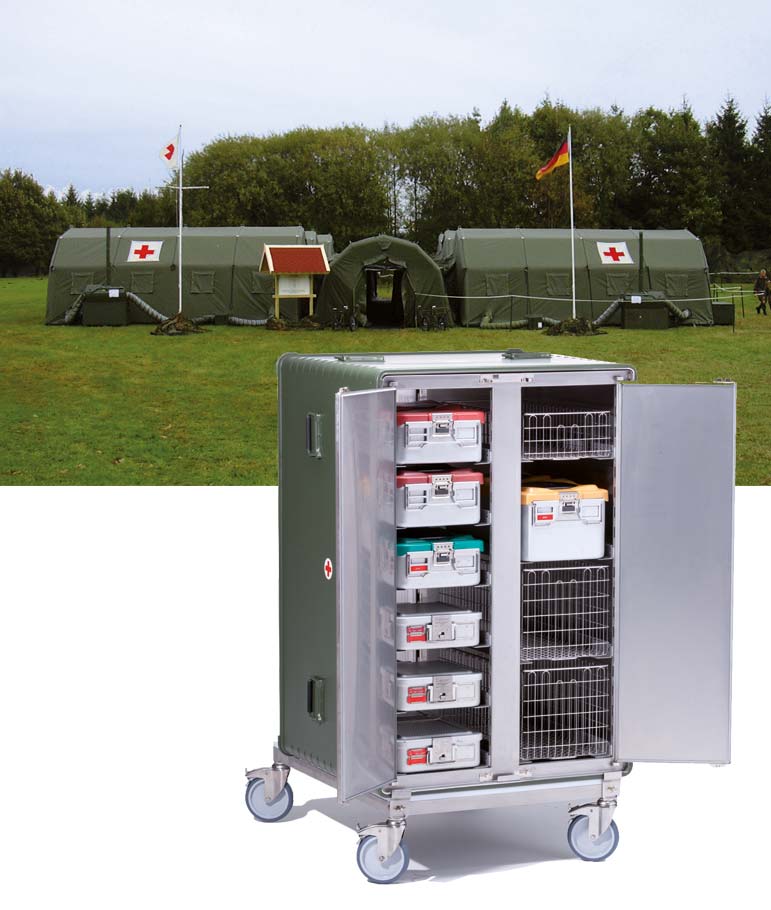 Cabinet trolley with double function:
Stable, waterproof protective bonnet for the transport of e.g. thermal disinfectors and at the same time mobile as well as dust-protected storage place for sterile goods during operation.
This kit reduces the transport volume and saves weight, as no additional cabinets have to be carried. The open cupboard trolleys can be set up in anterooms of the mobile central sterilisation unit or in the operating theatre area and serve as a temporary storage place for opened containers or as a drop-off point for used or non-sterile instruments. The closed cupboard trolleys are intended for the long-term storage of sterile items. These are also placed in the anteroom area or for instrument supply in the operating theatre area.
The upper part of the aluminium hood-type container can be converted into an open or closed storage cabinet. Together with a highly mobile castor frame, four movable large wheels and a plug-in installation frame, these can be converted into mobile 2-row cabinet trolleys.
Another kit is used to equip the cupboard trolley with two hinged doors that close it off at the front. During transport, the door construction is pushed completely against the rear wall of the hood-type container and is locked there. During operation, the wing doors are pulled forward and seal the hood-type container from the outside to protect it from dust. There are 4 levels in each row with useful heights of 275mm to store sterile goods containers.
Continuously welded casing joint
Sturdy cast stacking corners on lid and base
Stacking feet on the base with fixing holes inside and outside
Waterproof up to lower edge
Drop handle due to silicone seal inside on the base
BY-boxes have DIN A4 label frames with transparent cover on the inside of the lid
SSturdy base, edge and lid profile
Lid with all-round seal
Loose lid
Hinged latches with spring-open protection
Special equipment
Red Cross marking through stickers on 4 sides and lid according to TL 6545-0055
Labelling according to TL 6545-0055
Exterior paint RAL 6031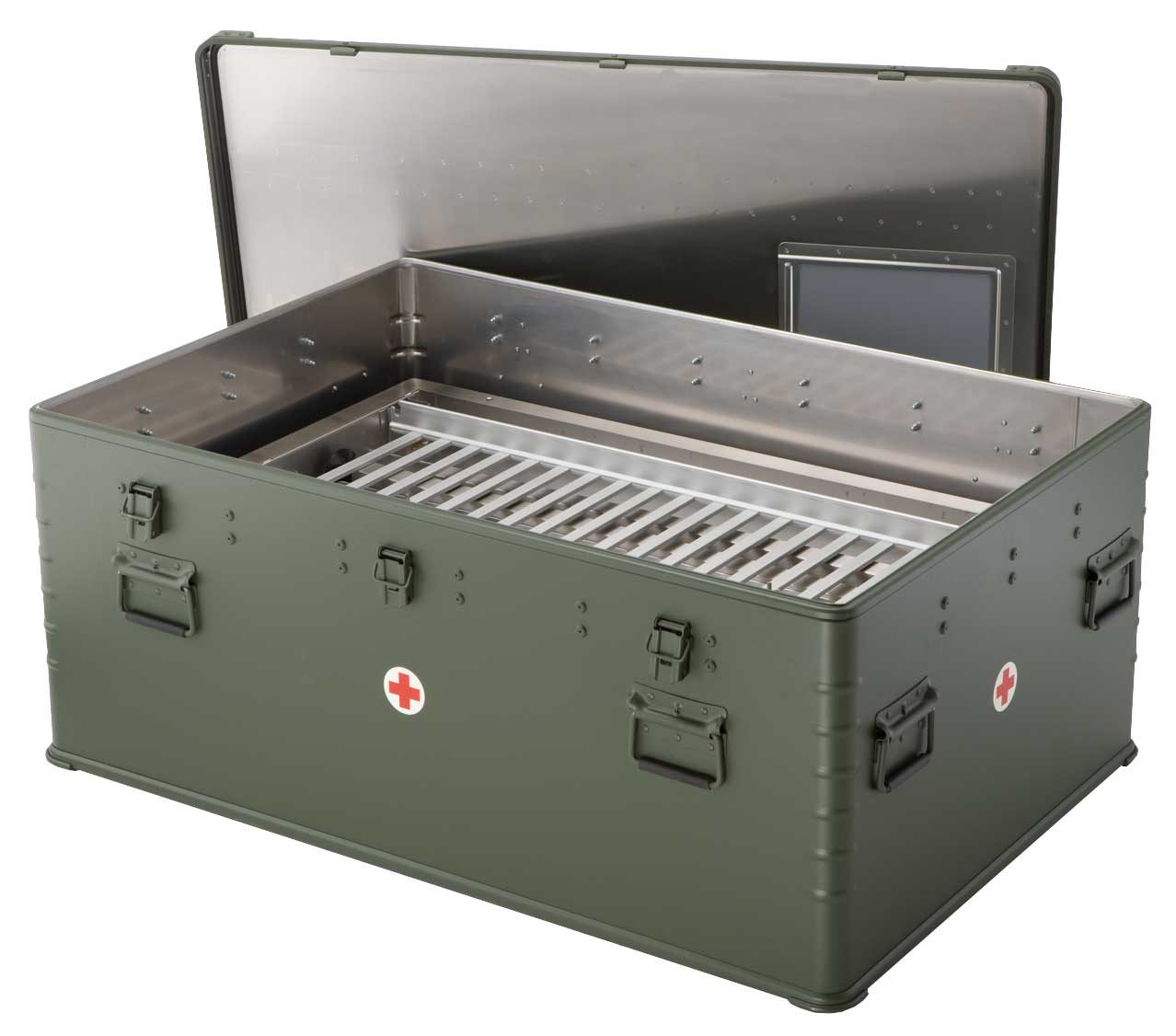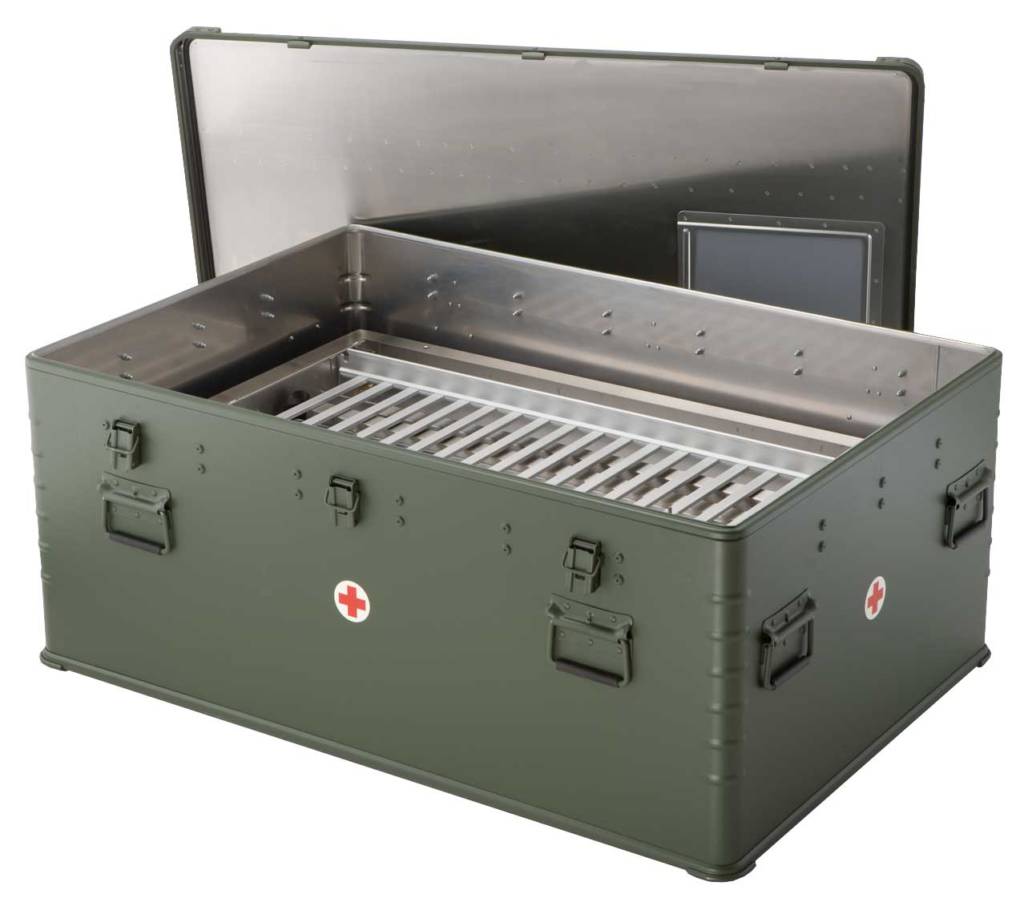 You need technical help or have a query?
Send us a message! We will contact you as soon as possible.