CSSD as an interim­ solution
Mobile reprocessing units for medical devices
HP Medizintechnik GmbH also offers its units as interim CSSDs on a rental basis
The modules are perfectly suited for temporary hospital areas or larger field hospitals.
Several operating theatres can be supplied with sterile supplies at the same time.
40 years of know-how in sterilisation ­technology
PROFESSIONAL WORKPLACE IN A DIFFICULT ENVIRONMENT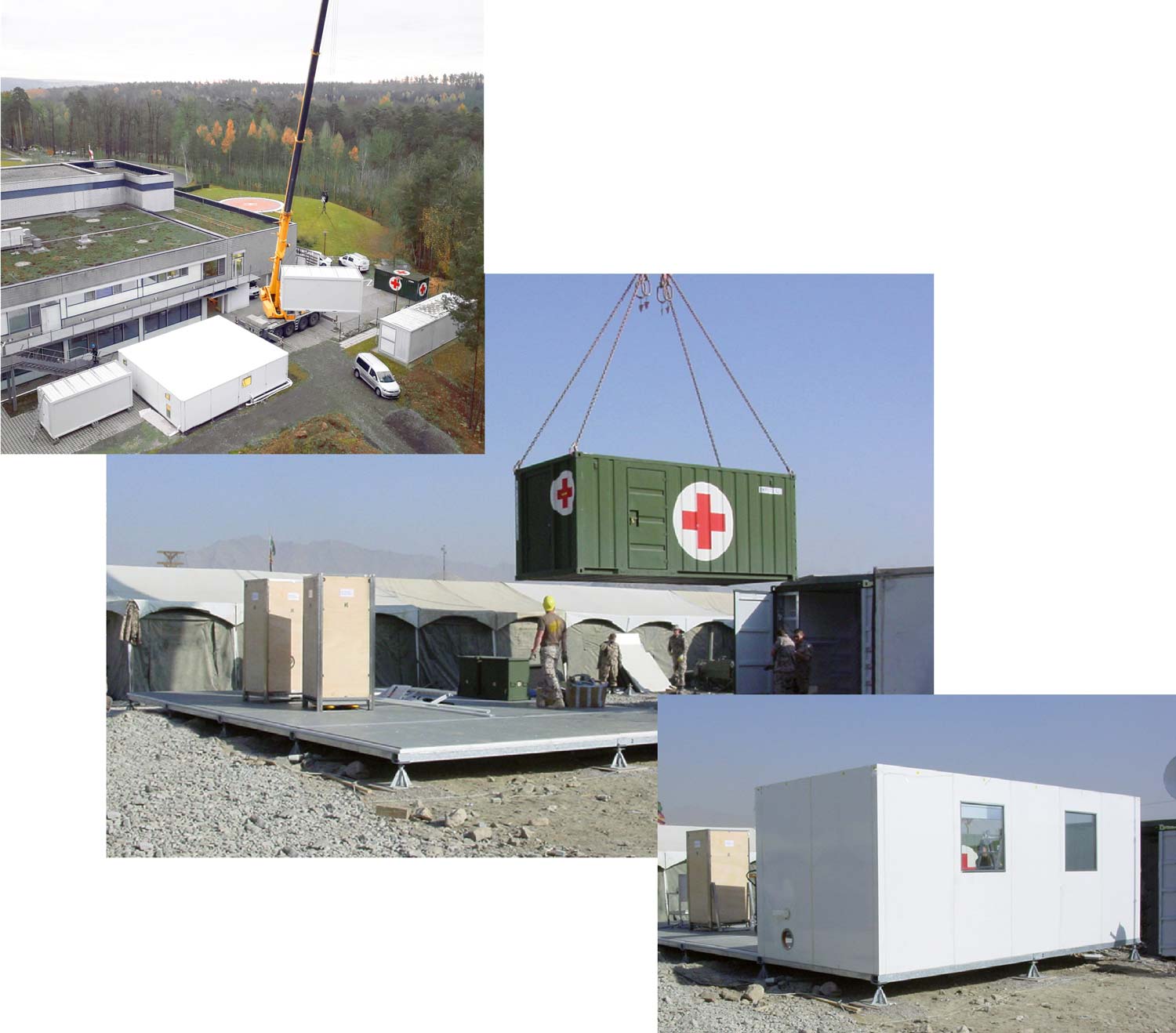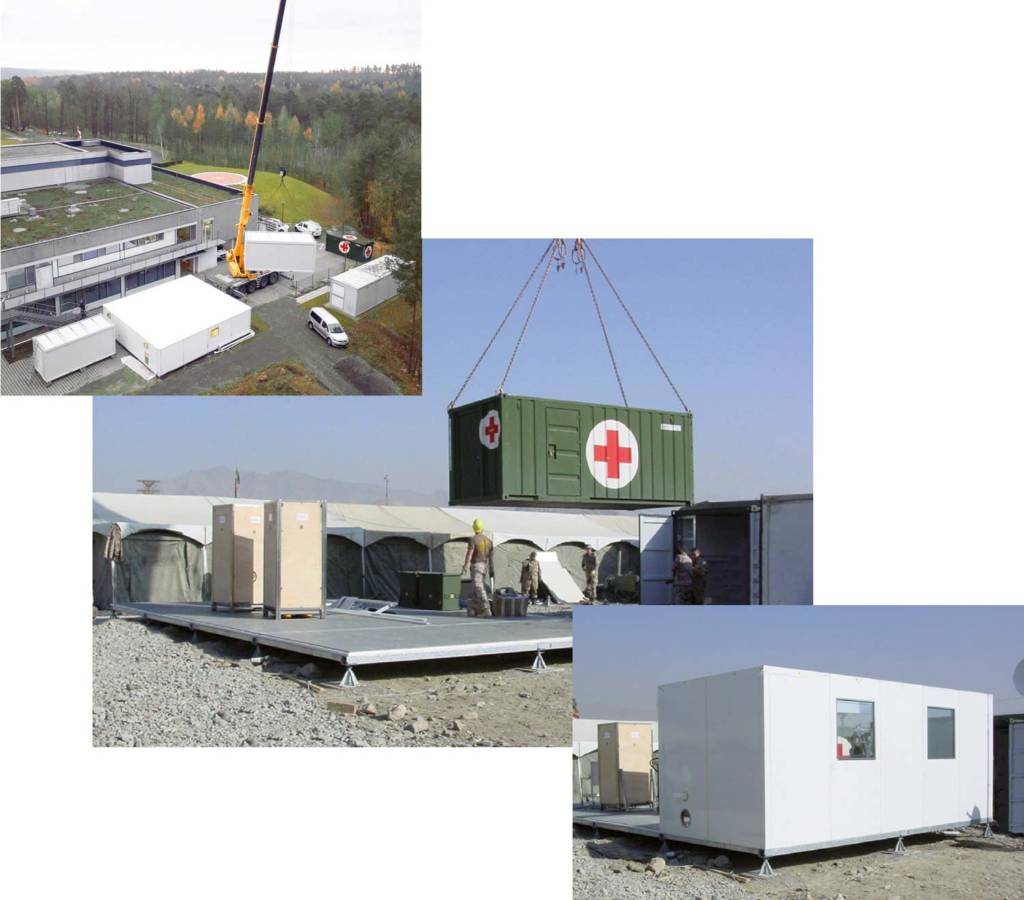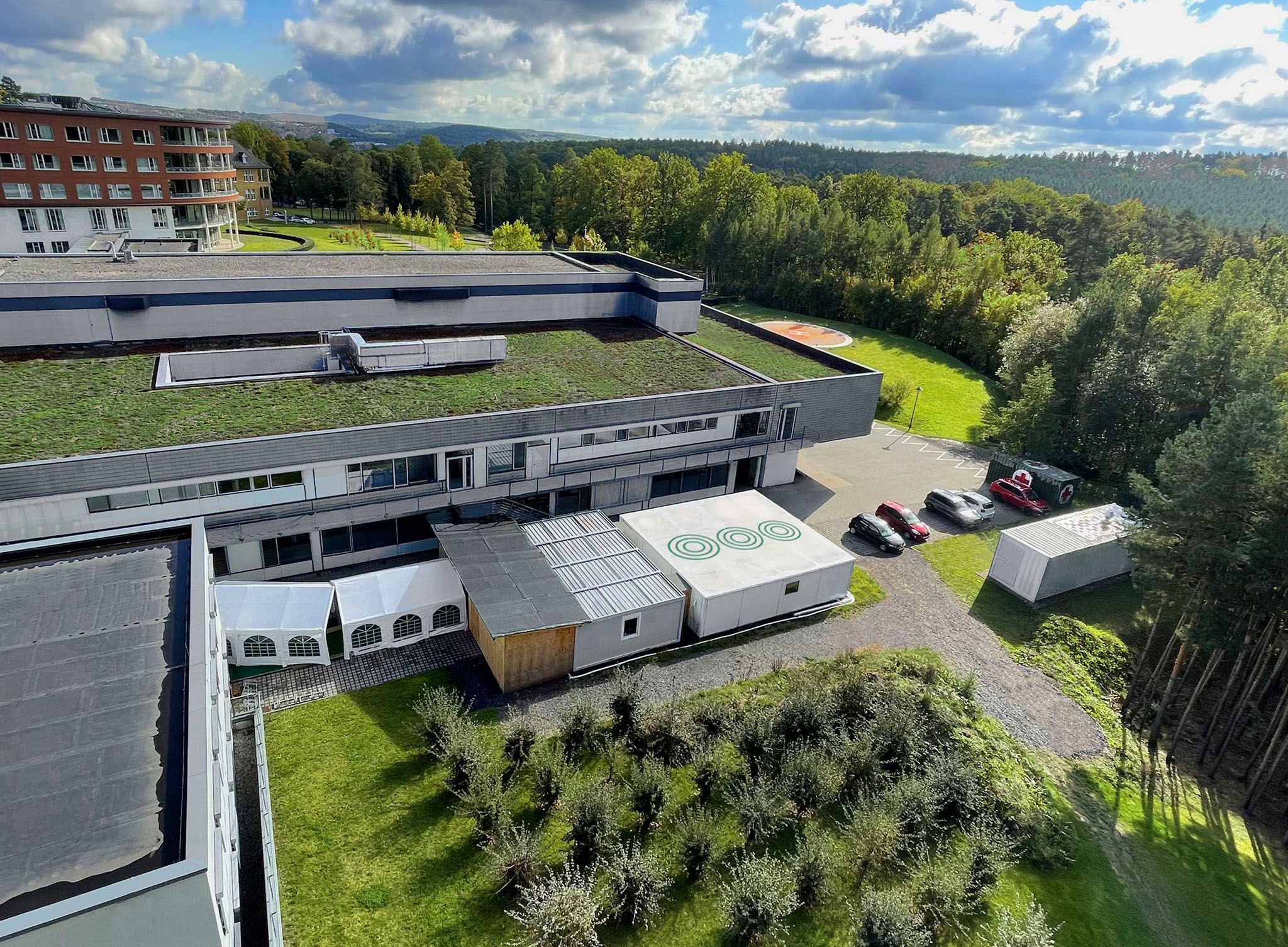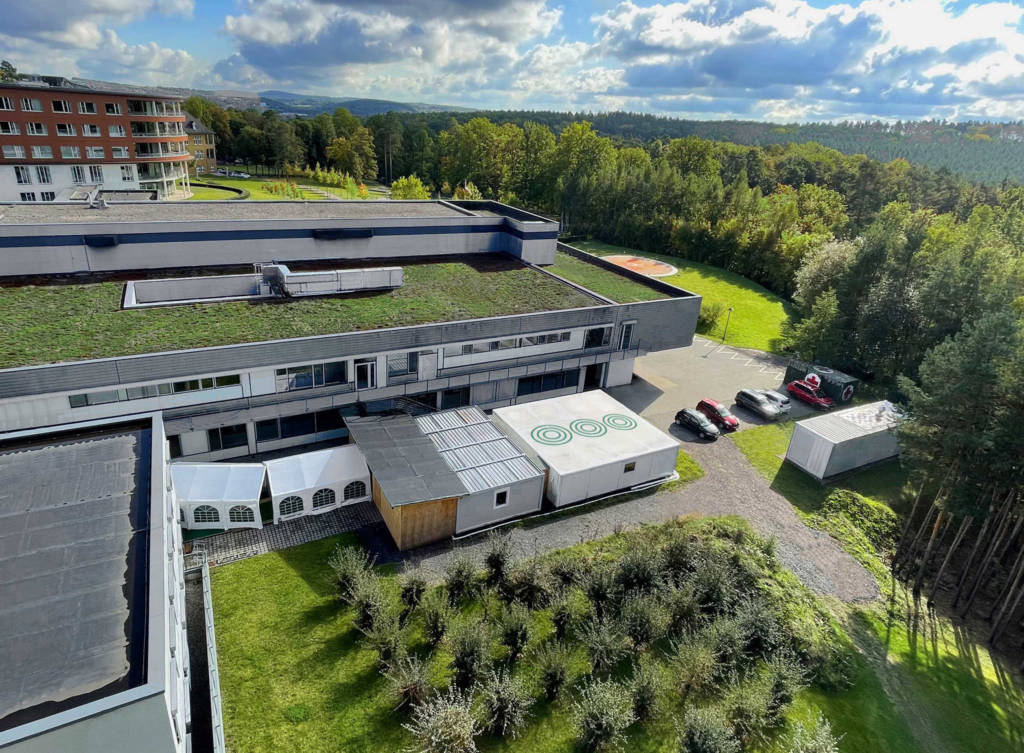 Operators of hospitals and clinics whose central sterile supply department is temporarily unavailable can combine the modular components as mobile units in containers or in fixed building structures to create a stationary CSSD.
The modules are perfectly suited for temporarily constructed hospital areas or larger field hospitals. Several operating theatres can be supplied with sterile supplies at the same time.
A mobile CSSD as an interim solution on site has many advantages:
No additional instrumentation needs to be provided
The existing quality management system can continue to be used with minor adaptations
Short distances without greatly increased hygiene and organisational effort
No additional rooms have to be provided within the hospital
No additional on-site foundation necessary for installation
Little planning effort on behalf of the customer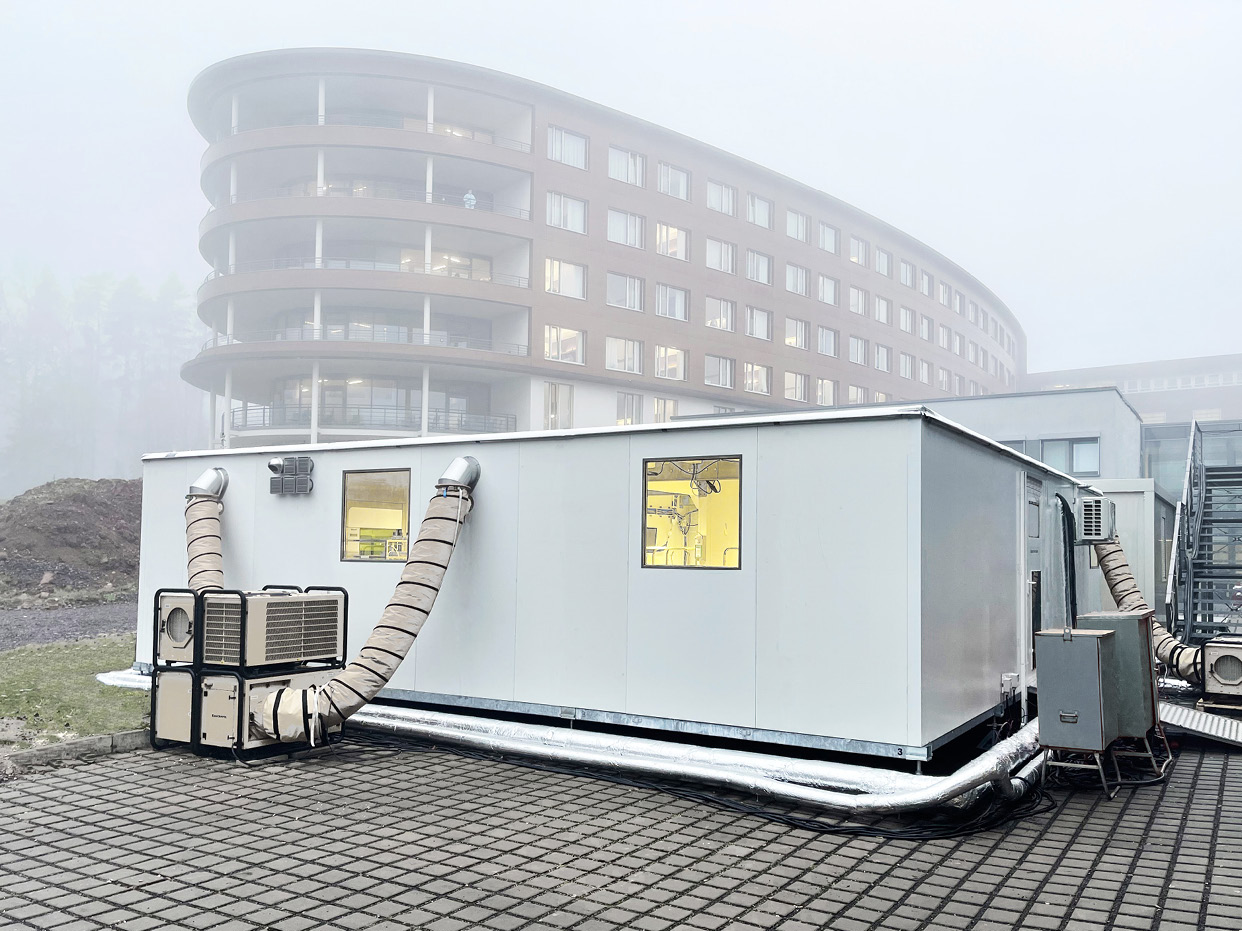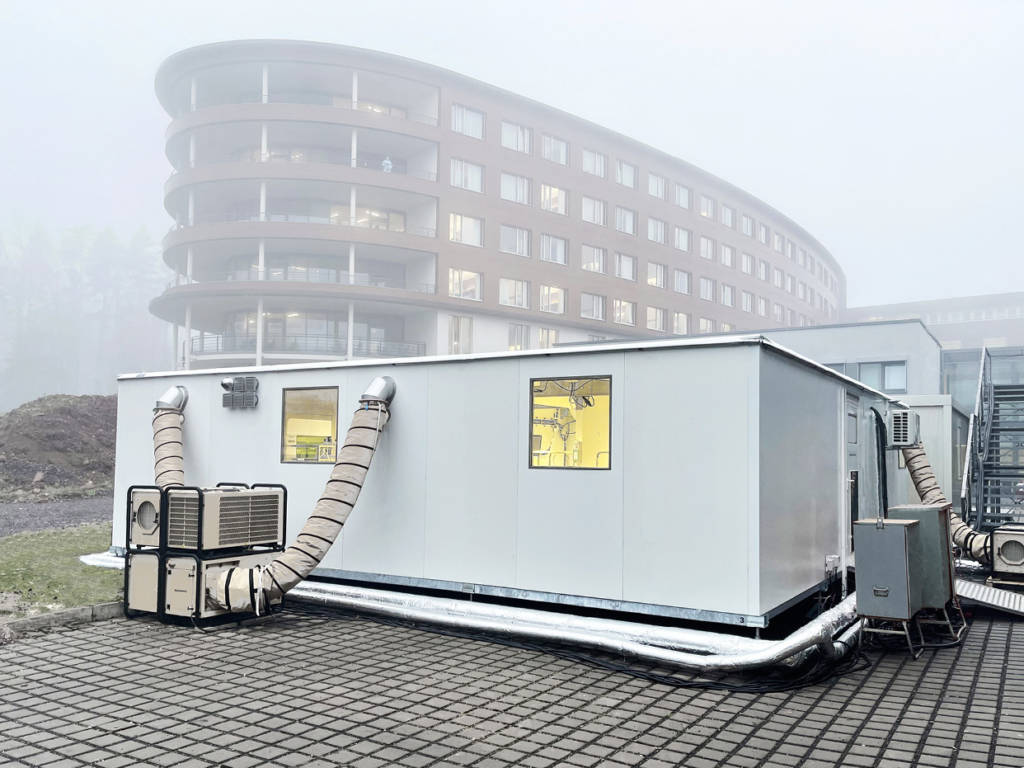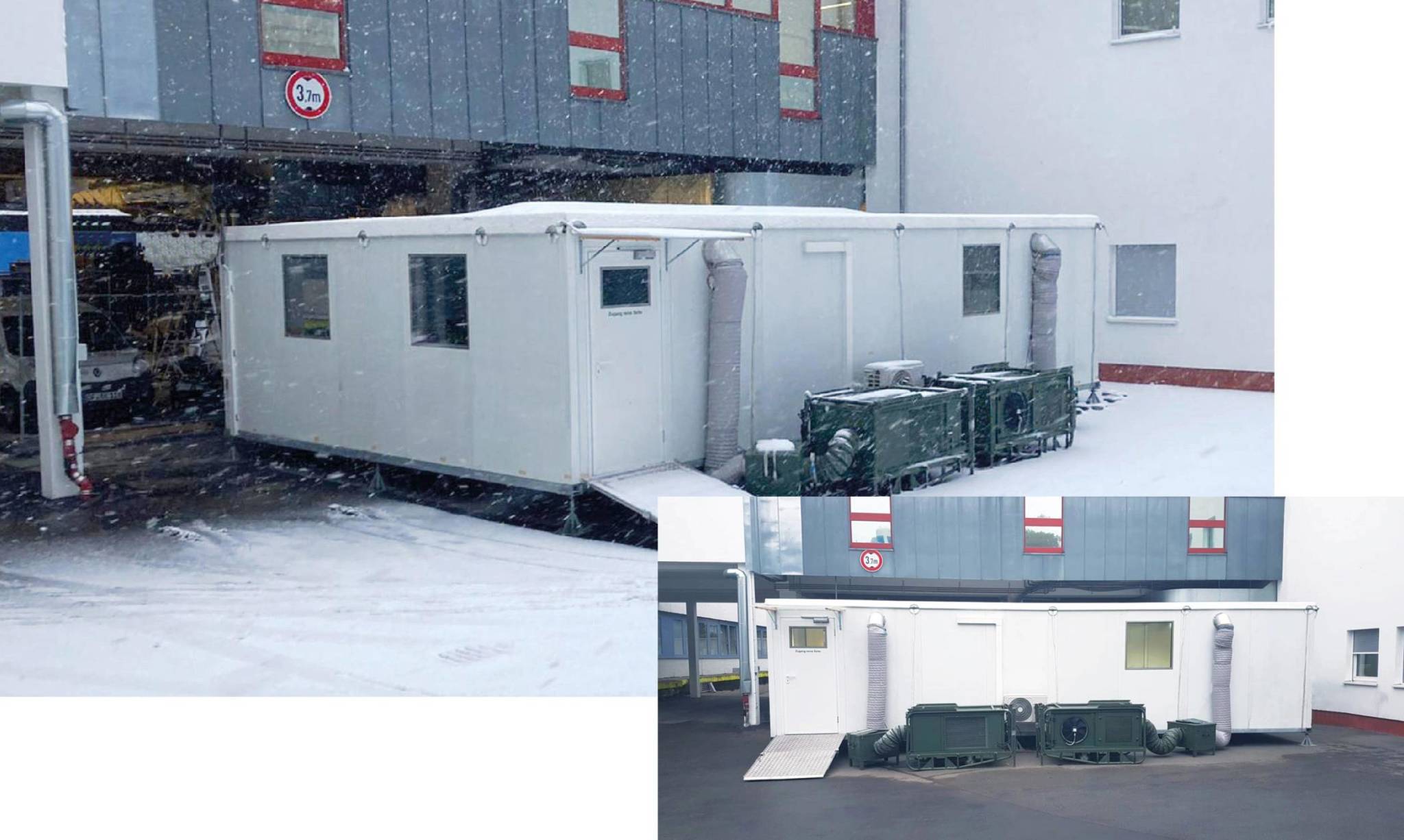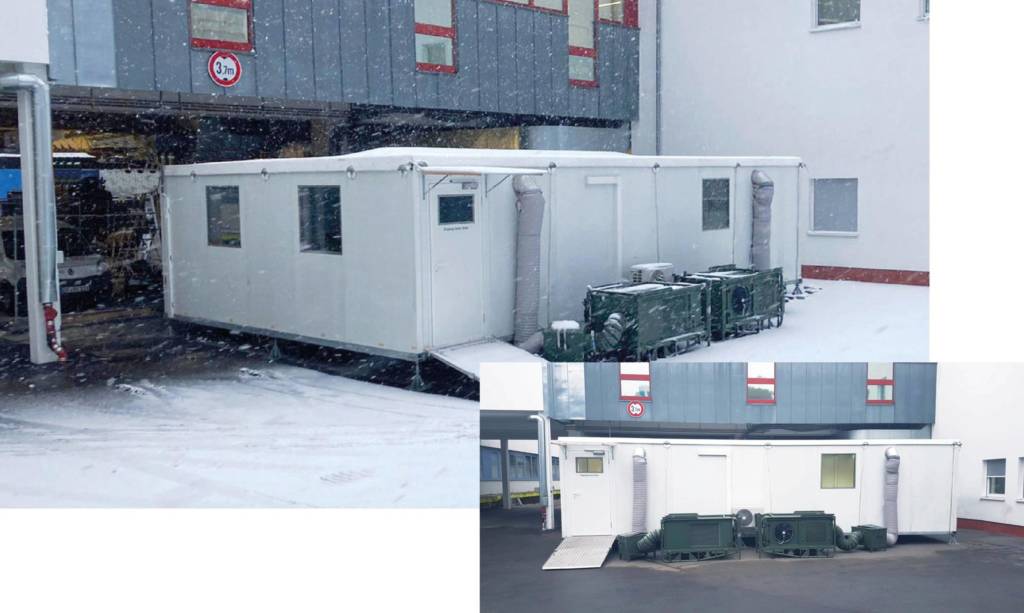 Fail-safe reprocessing of medical devices and efficient and effective sterile supply are the essential prerequisites for trouble-free medical operations.
The existing hospital staff is trained accordingly (technicians and users) and can continue to work seamlessly in the mobile CSSD. A trained training team from HP Medizintechnik GmbH provides targeted instruction on the use of the CSSD.
Clinical centre "Westküstenklinikum Heide"
(8 months rental period)
The modules can be connected to the on-site process documentation and communication system of each hospital.
The modules offer spacious work areas and high-quality equipment, with washer-disinfectors, self-sufficient steam sterilisers as well as systems to produce partially demineralised and fully demineralised water.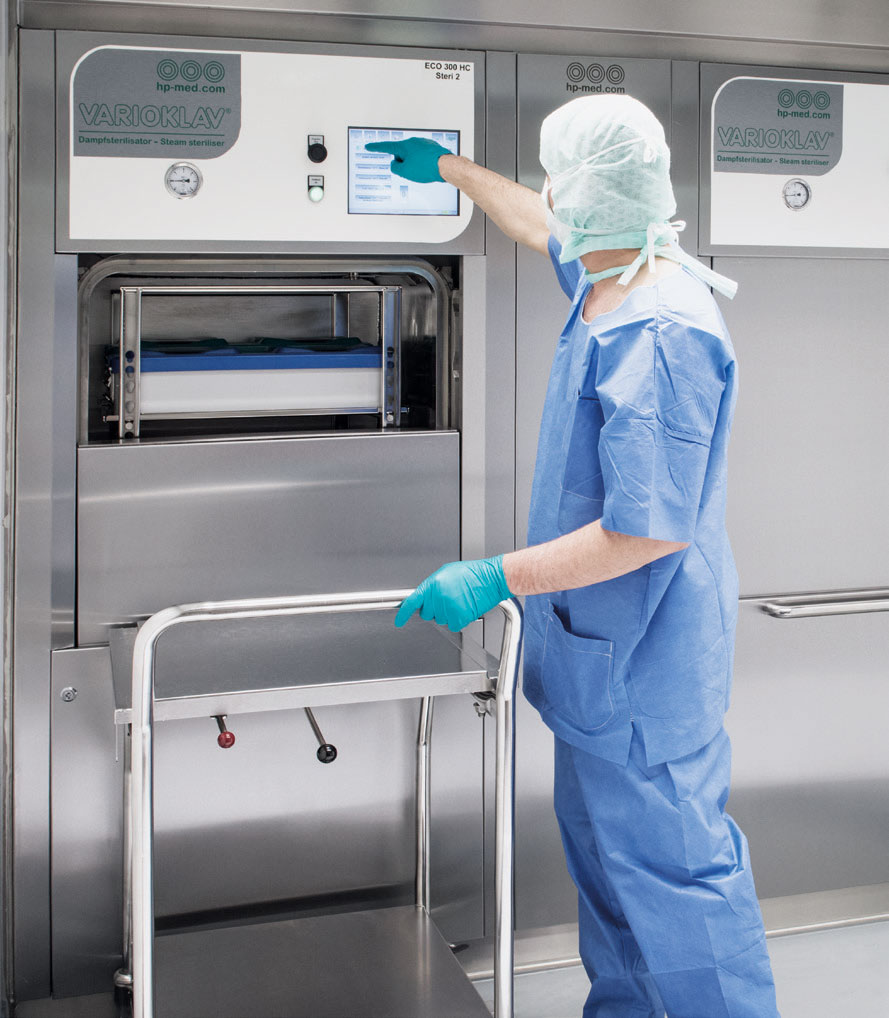 Clinical centre "SRH Wald-Klinikum Gera"
(19 months rental period)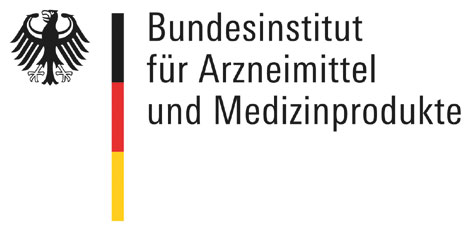 The recommendations of the Commission for Hospital Hygiene and Infection Prevention at the Robert Koch Institute (RKI) and the Federal Institute for Drugs and Medical Devices (BfArM) on the "Requirements for Hygiene in the Reprocessing of Medical Devices" are being fulfilled.
STAINLESS STEEL IN ALL WORKING AREAS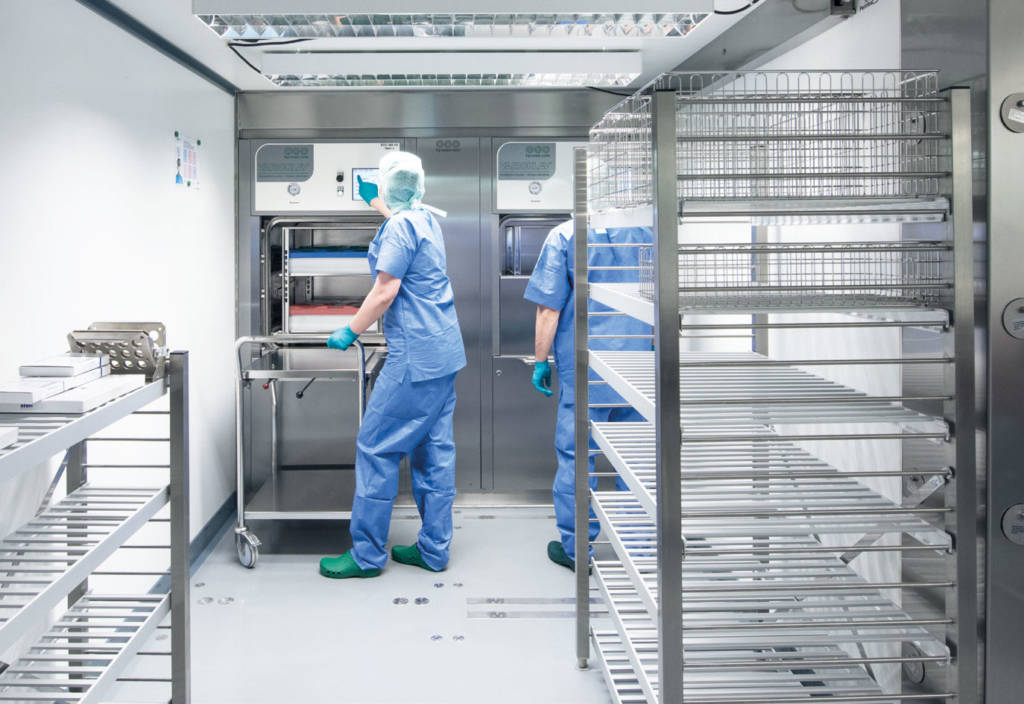 Tables, cabinets and work surfaces are made of stainless steel in all areas. This means that the highest level of hygiene can be maintained and absolutely hygienic finishing and sealing can be carried out and guaranteed.
The latest processing equipment, up to four powerful and flexible sterilisers and innovative process technologies allow for high throughput in a professional work area.
Furthermore, an additional 2×4 StE sterilisation container can be attached as part of an expansion of capacity.
STAINLESS STEEL IN ALL WORKING AREAS
All resources and requirements for the standard-compliant operation of the CSSD are provided independently on site:
Deionised water
Medical compressed air
Sterile steam
Air conditioning etc.
All that is needed is fresh water, electricity, a waste water line and, if required, a data line (to connect the process documentation to the in-house server).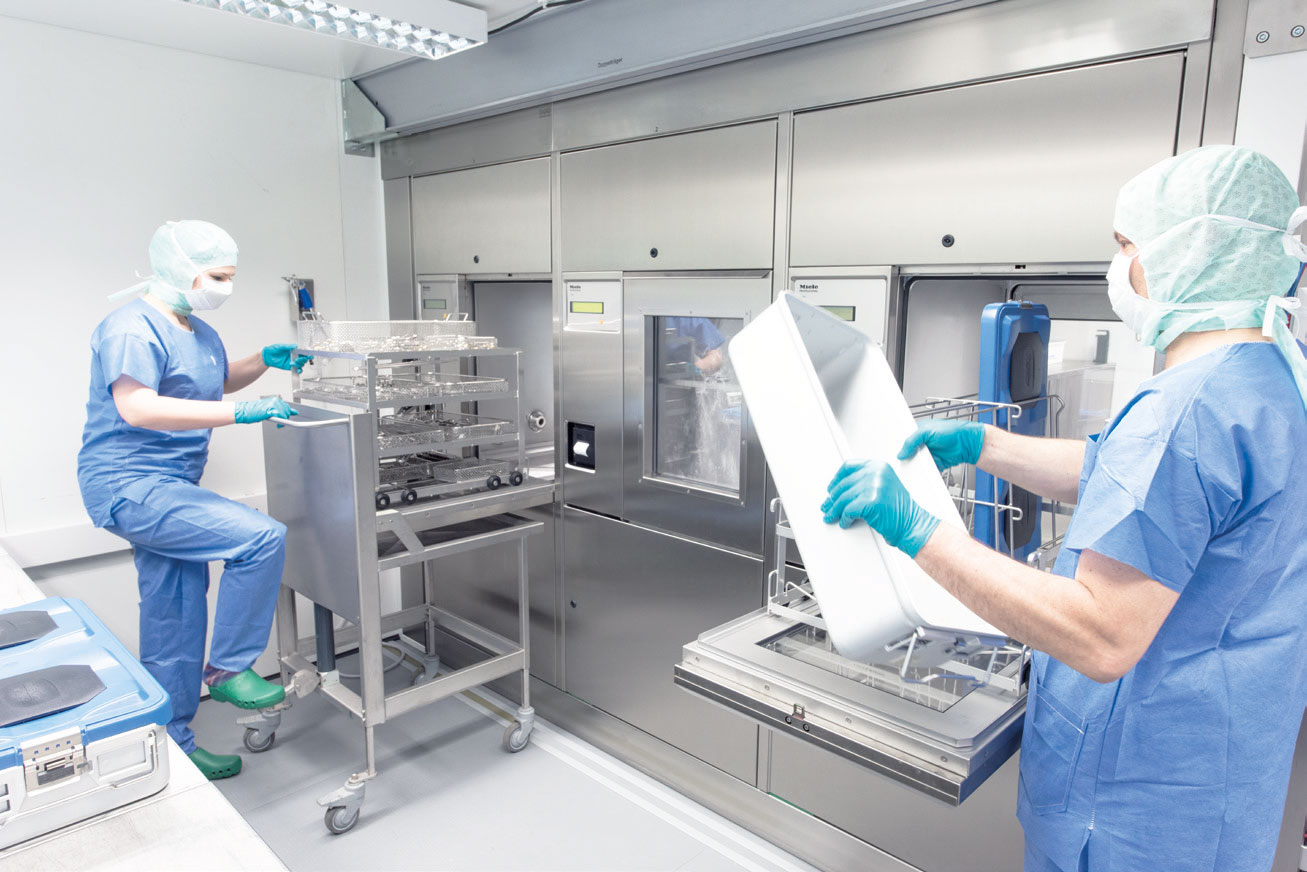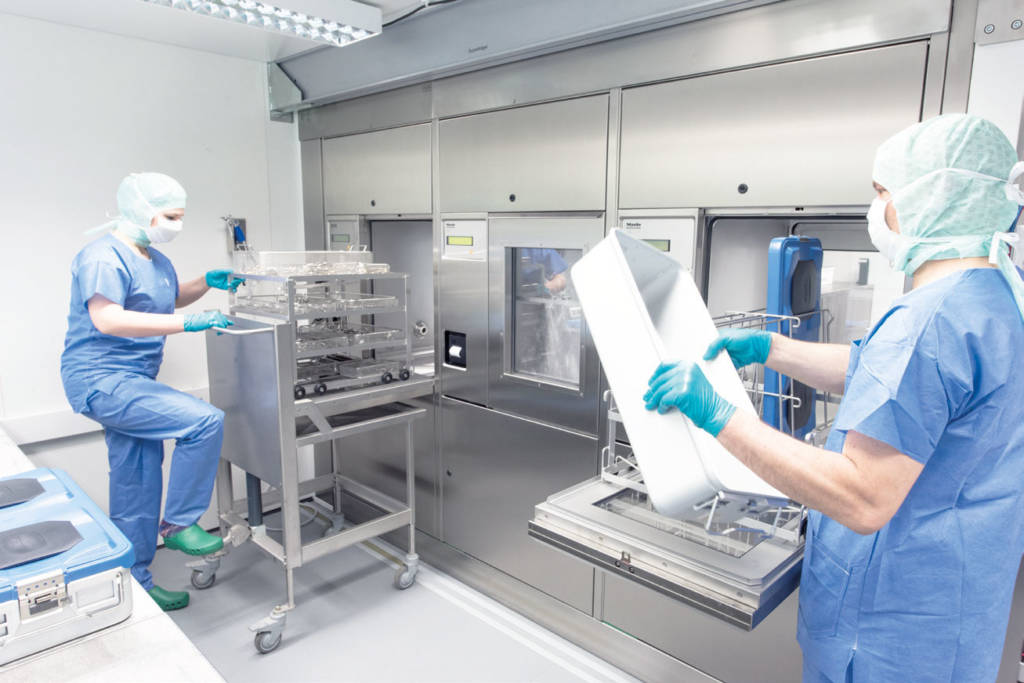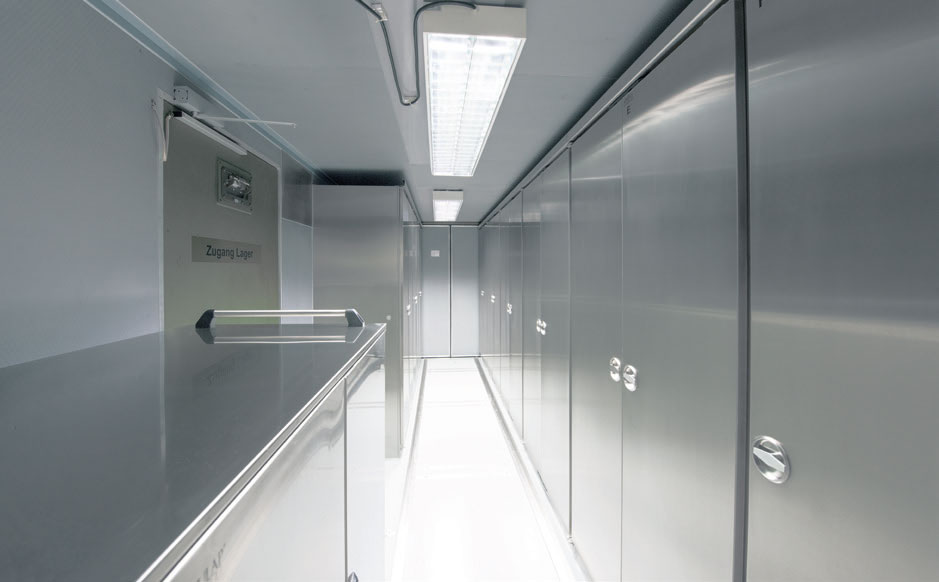 All the equipment is packed in three customised ISO 20 ft. transport containers:
Container Space Module (CSE)
Container Sterilisation 2×4 StE (CST)
Container Storage Sterile Goods (CLS)
A container dockable to the packing and sterilisation area is equipped with stainless steel cabinets for the long-term storage of sterile goods.
Quality – Made in Germany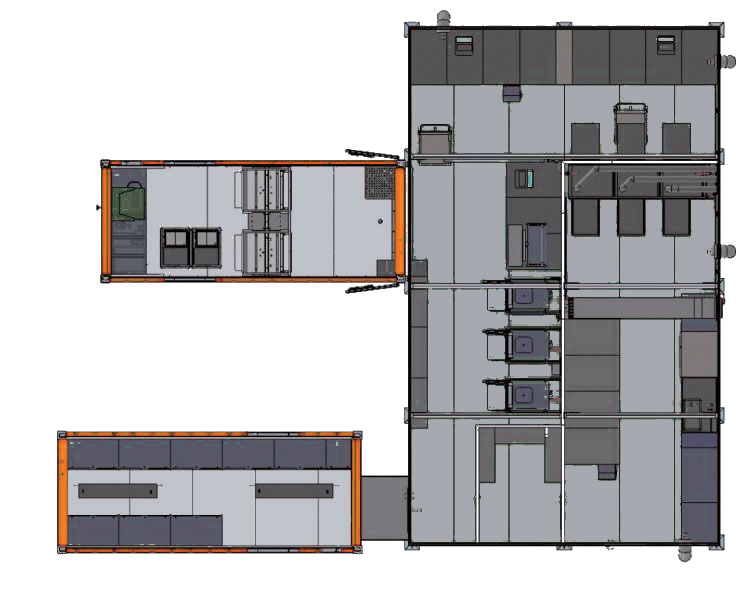 Our CSSD system in action
You need technical help or have a query?
Send us a message! We will contact you as soon as possible.