Large steam steriliser according to DIN EN 285
Designed for stationary and mobile use
For sterilisation of medical devices and their accessories
For large medical practices, specialist centres, outpatient clinics, healthcare facilities and polyclinics.
For mobile and highly mobile military medical facilities such as rescue centres or field hospitals as well as NGO facilities.
For the rapid provision of sterile medical products for medical care. Originally designed for worldwide use in almost all climatic zones, this steriliser also makes a very good impression in the established medical sector.
For all medical devices commonly used in hospitals:
for sterilisation of surgical instruments
for porous sterilisation materials such as textiles, dressings, hollow bodies
for thermolabile materials, e.g. plastics, tubes and other medical articles
unpackaged or shrink-wrapped in primary and secondary packaging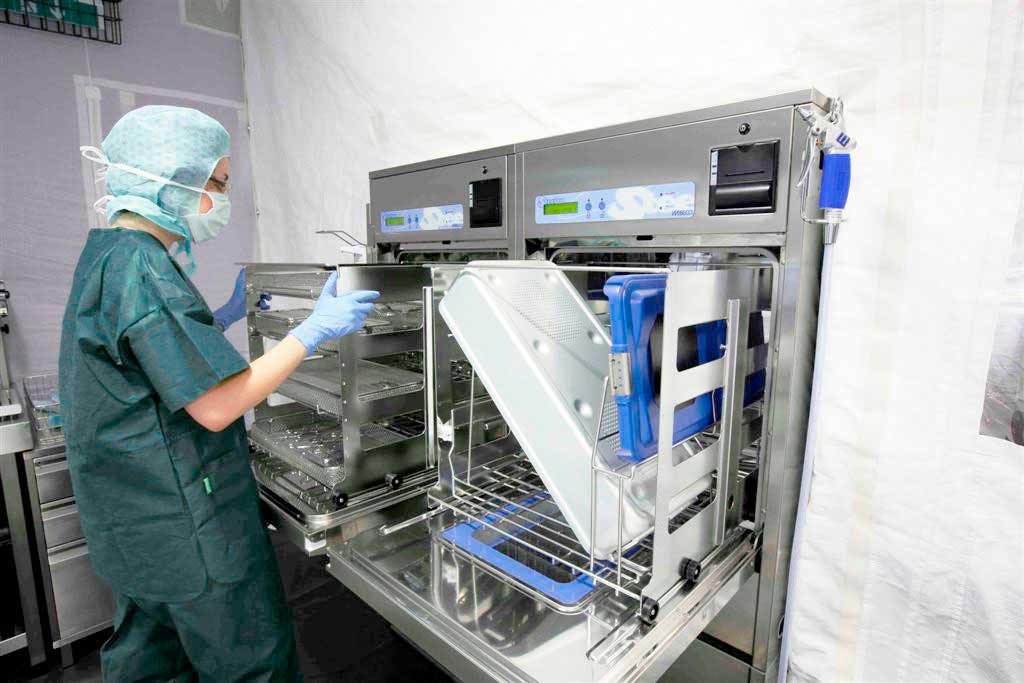 For decentralised operating theatre areas for the short-term provision of sterile instruments.

As an outage concept or in interim solutions for central sterilisations.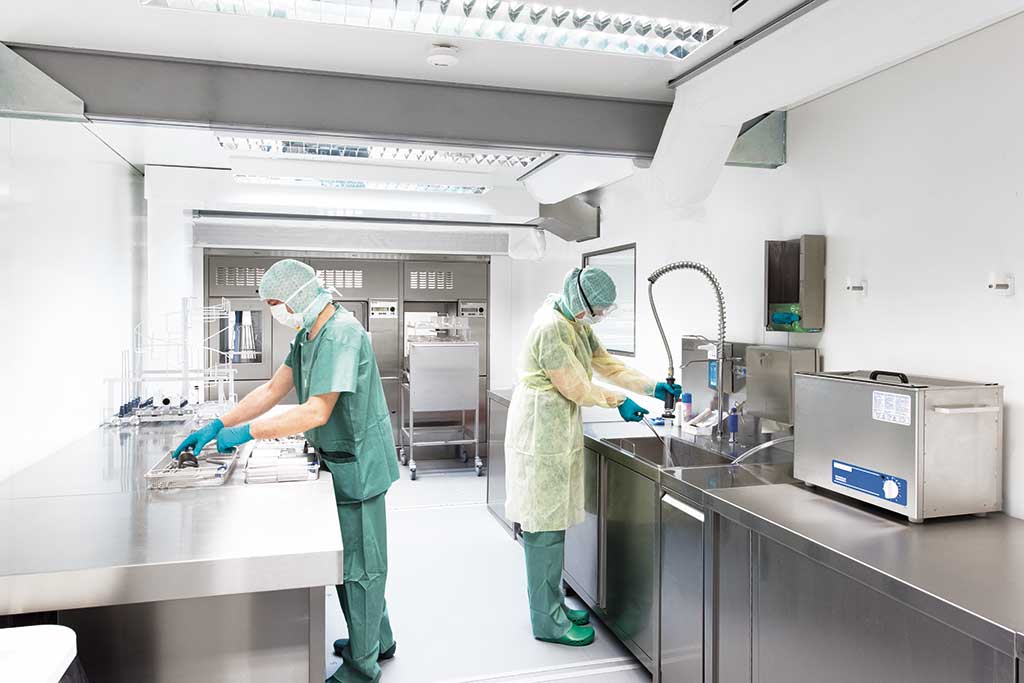 The device can be set up stationary, but also mobile in hospitals or medical services, e.g. in containers, tents, ships and vehicles, and is designed to realise short batch times.
This steriliser offers a tried and tested quality that has already proven itself in many operations in disaster areas.
High mobility due to compact design and low weight
Base frame with fold-out shelf and carrying device with removable handles
Compact storage of all parts in a transport package
No requirements for the supply of resources
Easy to set up and fast to put into operation
VARIOKLAV® 65 TC
Large steam steriliser according to DIN EN 285
The HP Labortechnik GmbH and HP Medizintechnik GmbH continue to work together as a strong duo.
HP Medizintechnik GmbH develops, manufactures and distributes the devices for the medical sector.
With more than 40 years of know-how in the manufacture of laboratory equipment and medical devices, it has an optimal development and manufacturing structure for medical products.
External dimensions (H/W/D)
Dimensions of usable space (H/W/D)
Loading height above table
Permitted operating pressure (from vacuum to abs.)
Steam generator (water / total volume)
Material for pressure vessels
Permitted operating temperature
Max. Operating overpressure / vacuum
Approval mark according to MPG / specified
European Pressure Equipment Directive
Loading capacity of the sterilisation chamber
External dimensions of unit incl. base W/D/H
Outer dimensions transport packaging W/D/H
Weight unit incl. base frame
Total weight incl. transport packaging and accessories
The steriliser requires only a small space. It is equipped with a swing door and can be placed on a stable table to save space.
A super-flat steam generator saves a lot of space and resources.
Intelligent energy management provides steam immediately after switch-on.
Very effective vacuum processes for the treatment of infectious waste and best possible drying results for instruments as well as consumables due to a powerful water ring vacuum pump.
Both sterilisation chamber and steam generator are designed to fall under category I of the European Pressure Equipment Directive, thus taking advantage of the reduced requirements for the operation of the equipment.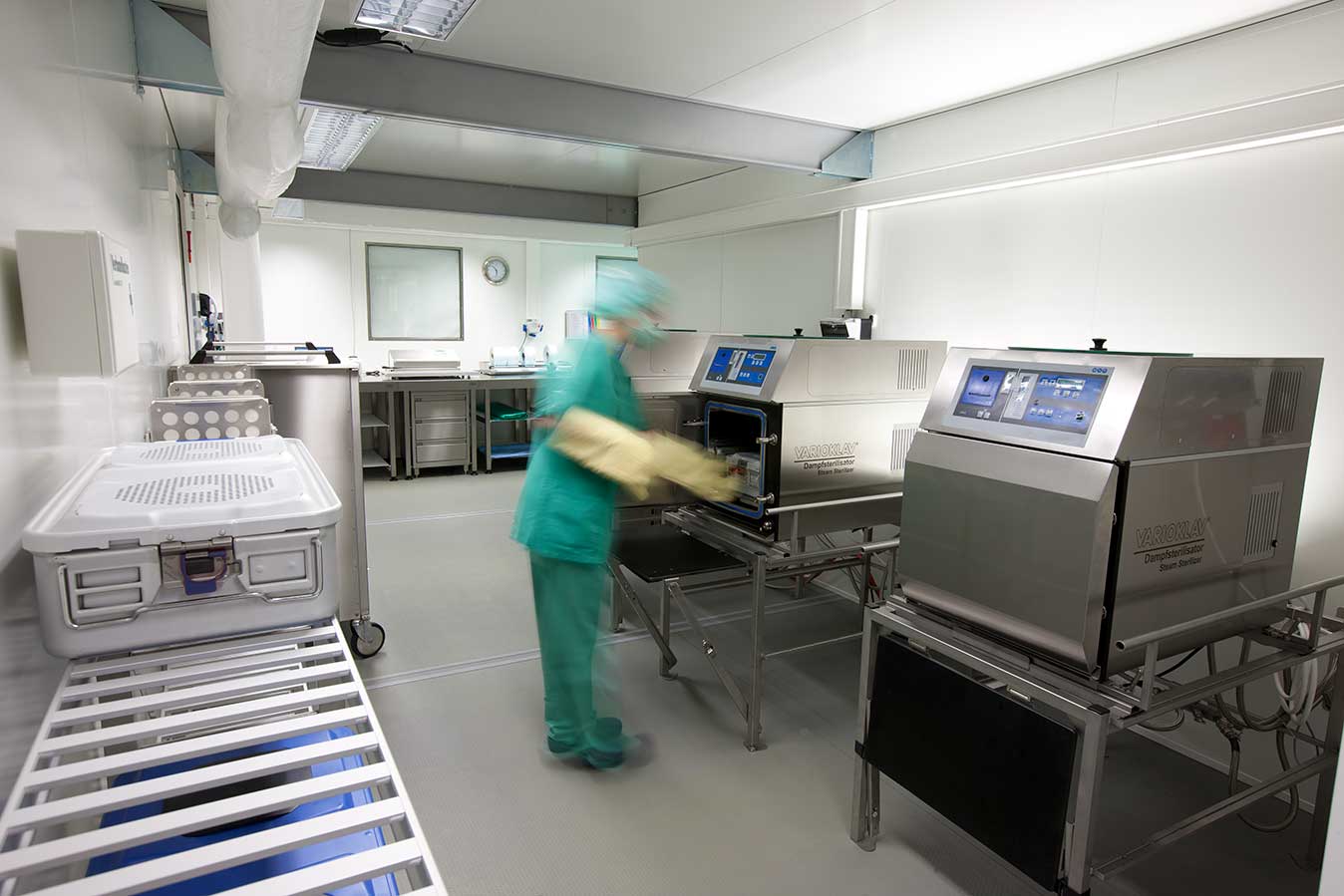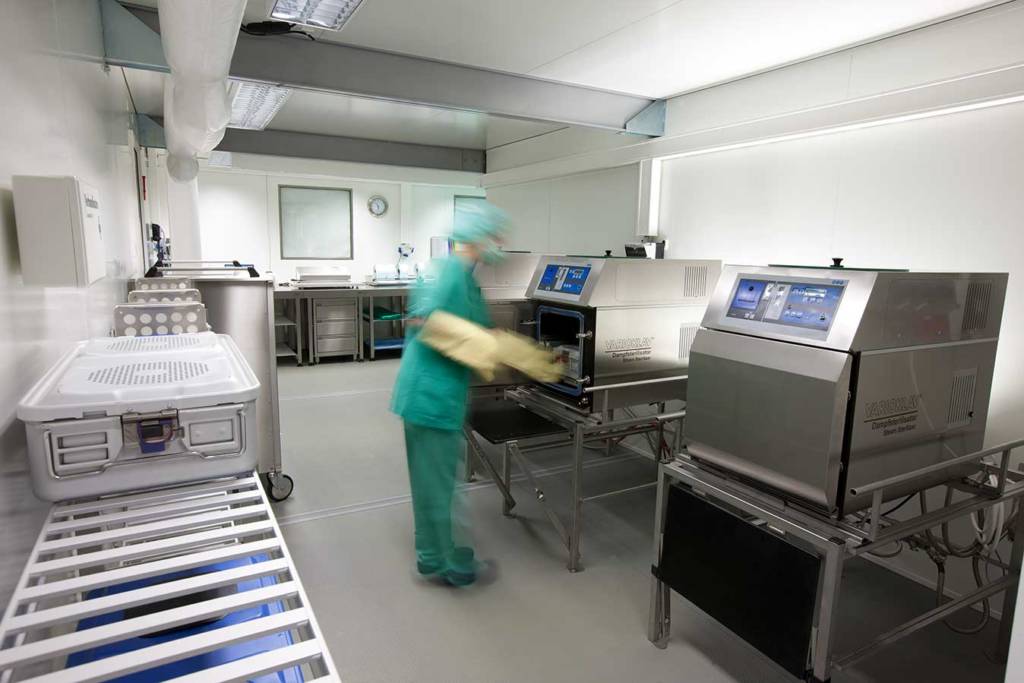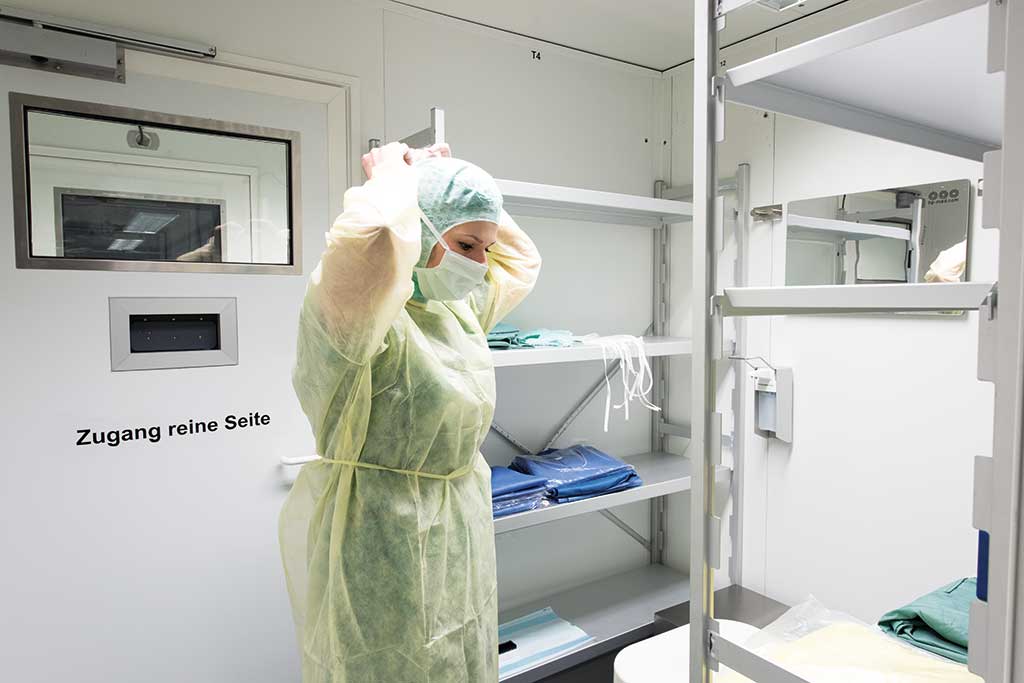 The two programme keys P1 and P2 are preset with the following programmes:
P1 = Sterilisation programme "Instruments".
P2 = Sterilisation programmes "Textiles 1" and "Textiles 2" for selection. A drying time of 15 minutes is set for the three programmes "Instruments", "Textiles 1" and "Textiles 2".
You can extend this drying time to a maximum of 199 minutes to improve the drying results. It is not possible to shorten the drying time.
The programme key P3 is pre-assigned with various service test and maintenance programmes:
"Transport" to lock the door for transport
"Empty cycle" for preheating the steriliser
"Bowie & Dick" test programme
"Vacuum test"
"Vacuum & Empty" – combination of vacuum test and empty cycle
"Empty" – programme to prepare for transport
Other validatable programmes
Special programmes, e.g. for germ-free food, eye lenses or thermal steam disinfection, can be installed without retrofitting components. If required or if the supply situation is difficult, programmes common in the medical sector can also be set up.
Process relevant product features
The most important functional product features are the compact fitting blocks with special valves developed for this type of unit. HP Medizintechnik GmbH uses only pneumatically actuated valves with compressed air for these armatures.
Even valves with large cross-sections are reliably tight both in deep vacuum and at high pressure. There is no need for piping, fittings and thus many sealing points. These blocks enable, among other things, powerful vacuum and effective drying processes in confined spaces and are designed for operating temperatures of 140 °C in continuous operation.
Dead spaces in which uncontrolled condensate or contaminated waste water accumulate have been constructively eliminated.
The sterilisation chamber is ventilated sterilely at the end of the process.
The steam generator is both a double casing and a steam generator.
Several functions are covered at the same time:
the supply of feed water
providing steam to preheat the sterilisation chamber from the outside
during sterilisation, also to heat the shell during each vacuum and drying phase, and
the sterilising steam for the sterilisation process.
The steam ensures precise and uniform surface temperatures – without the risk of local overheating, as is the case with electrically heated surfaces. As a result, thermolabile materials in particular are better protected.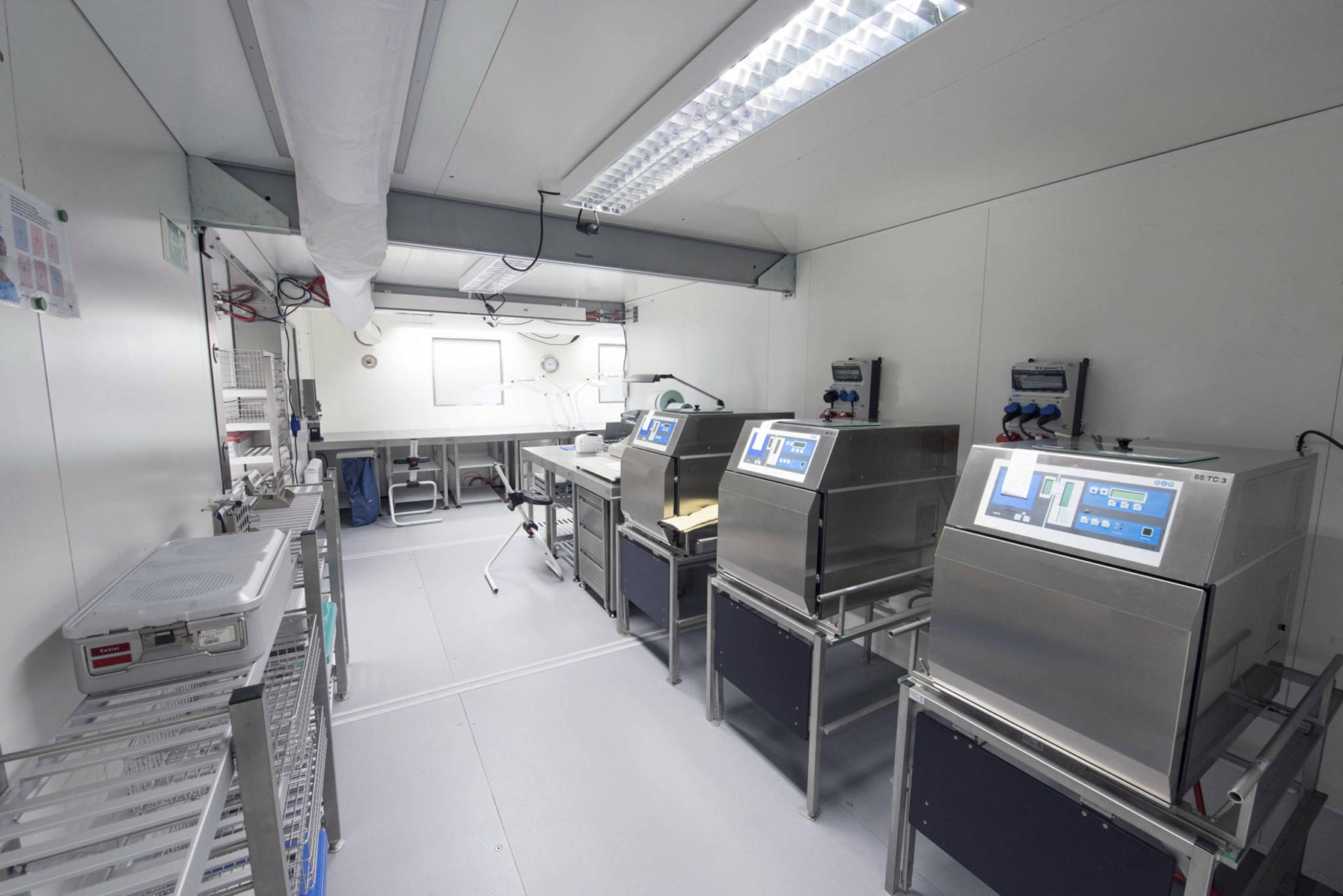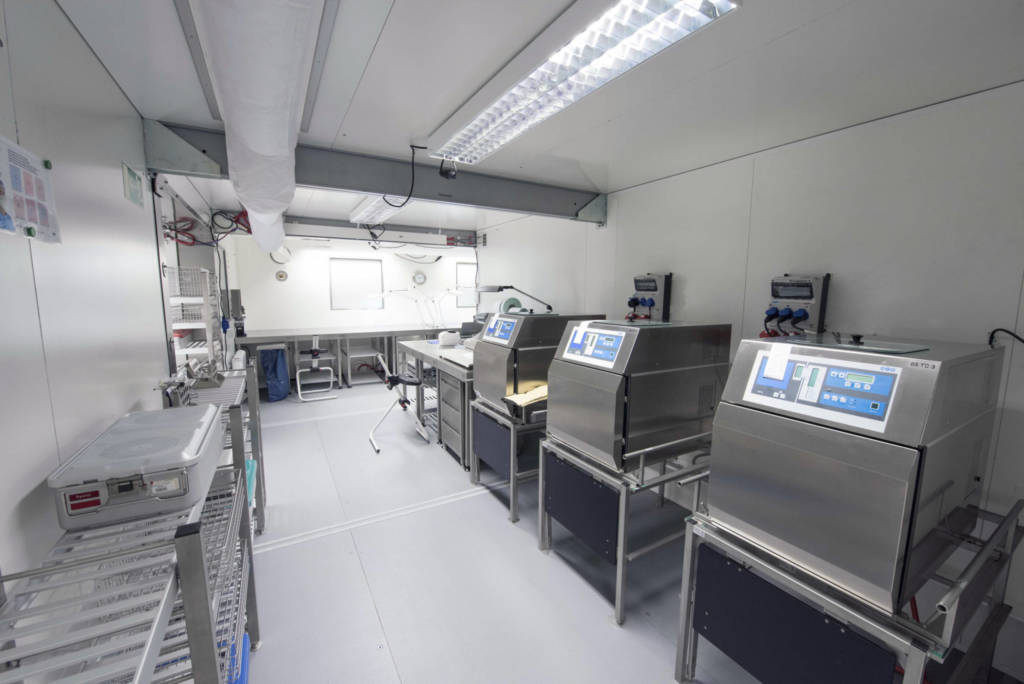 Please contact us for more information.
You need technical help or have a query?
Send us a message! We will contact you as soon as possible.